Horse Personalities
Jump to navigation
Jump to search
A Horses personality is a major factor in how a horse performs and breeds. When you see a horse mentioned in chat as a RLLLR this indicates where the personality slider is on the horse. You can find the personality bar by going to Horses->View My Horses->Choose Horse From List->Personality & Talents or by clicking on the horse you want in it's stall->info->Personality & Talents.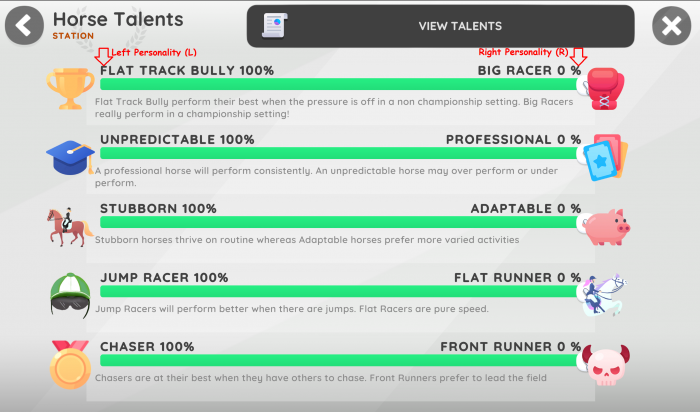 Personality Types
Flat Track Bully vs Big Racer
A Flat Track Bully will perform its best in non-stressful events such as: Cross Country, Regular Races, Barrel Racing, and Show Jumping. Big Racers perform their best under high stress situations such as Jousting Championships (Joust Champs) and Championships (Champs).
Unpredictable vs Professional
An unpredictable horse will not always perform to its max potential (+/- 5%), but when it does hit its max potential it will be of a higher ceiling than a professional horse. A professional horse will consistently hit a high level of performance.
Stubborn vs Adaptable
Stubborn horses will preform best when you choose the same target in Jousting. Adaptable horses want you to mix it up and choose different targets while Jousting to preform at it's best.
Jump Racer vs Flat Runner
A Jump Racer will perform better in Jump Races, Show Jumps, XC. A Flat Runner will have a higher max speed on flat ground events such as Barrels, Time Trials, Flat Races and Jousting.
Chaser Vs Front Runner
A Chaser will have a speed boost towards the end of the race when it is not leading it. A Front Runner will get a speed boost when leading a race at the beginning but start to tire towards the middle and end.
Most Popular Personalities Based On A Survey
| Event | Personality |
| --- | --- |
| Flat Races | LRRRR, LLRRR, LRLRR |
| Jump Races | LLRLR, LRLLR, LRRLR |
| Championship Races (Flat) | RRRRR, RLRRR, RRLRR |
| Championship Races (Jump) | RLRLR, RRRLR, RLLLR |
| Show Jumping | LLRLR, LRRLR, LRLLR |
| Show Jumping (Champs) | LLRLR, LRRLR, LRLLR |
| Cross Country (Career) | LRRLR, LRLLR, LLRLR |
| Cross Country (Champs) | LRRLR, LRLLR, LLRLR |
| Time Trials | LRRRR or LLRRR |
| Jousting (Regular) | RRLRR, LRRRR, RRRRR, LLRRR |
| Jousting (Champs) | RRLRR, RRRRR, RRLRL |
| Dressage (FTB) | LRRRR, LLRRR, LLLRR |
| Dressage (BR) | RRRRR, RRLRR, RLLRR |
| Barrels | LRRRR, LLRRR, LLLRR |